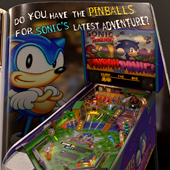 As mentioned previously, I've been working on a Sonic The Hedgehog pinball machine designed to 90's specifications. The original project goal was just to make some Blender Renders – as real as I could. Ultimately got sucked into making a complete working game, but the first step was to model everything in Blender.
To start, here are my four best renders of the final machine. Two outer shots from the left and right sides, and two close ups of the Knuckles/Robotnik and Tails areas of the machine:
Outer left: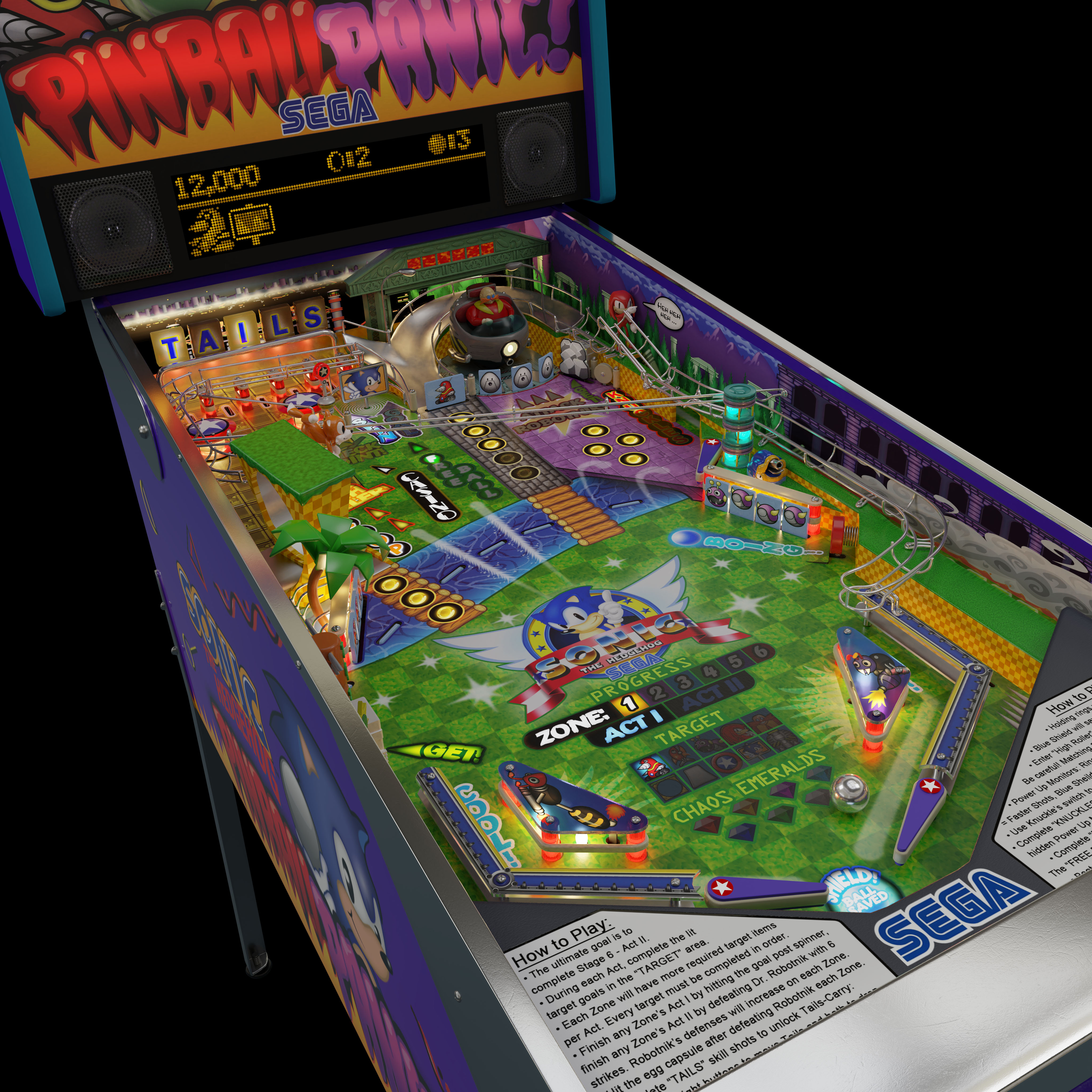 Outer Right: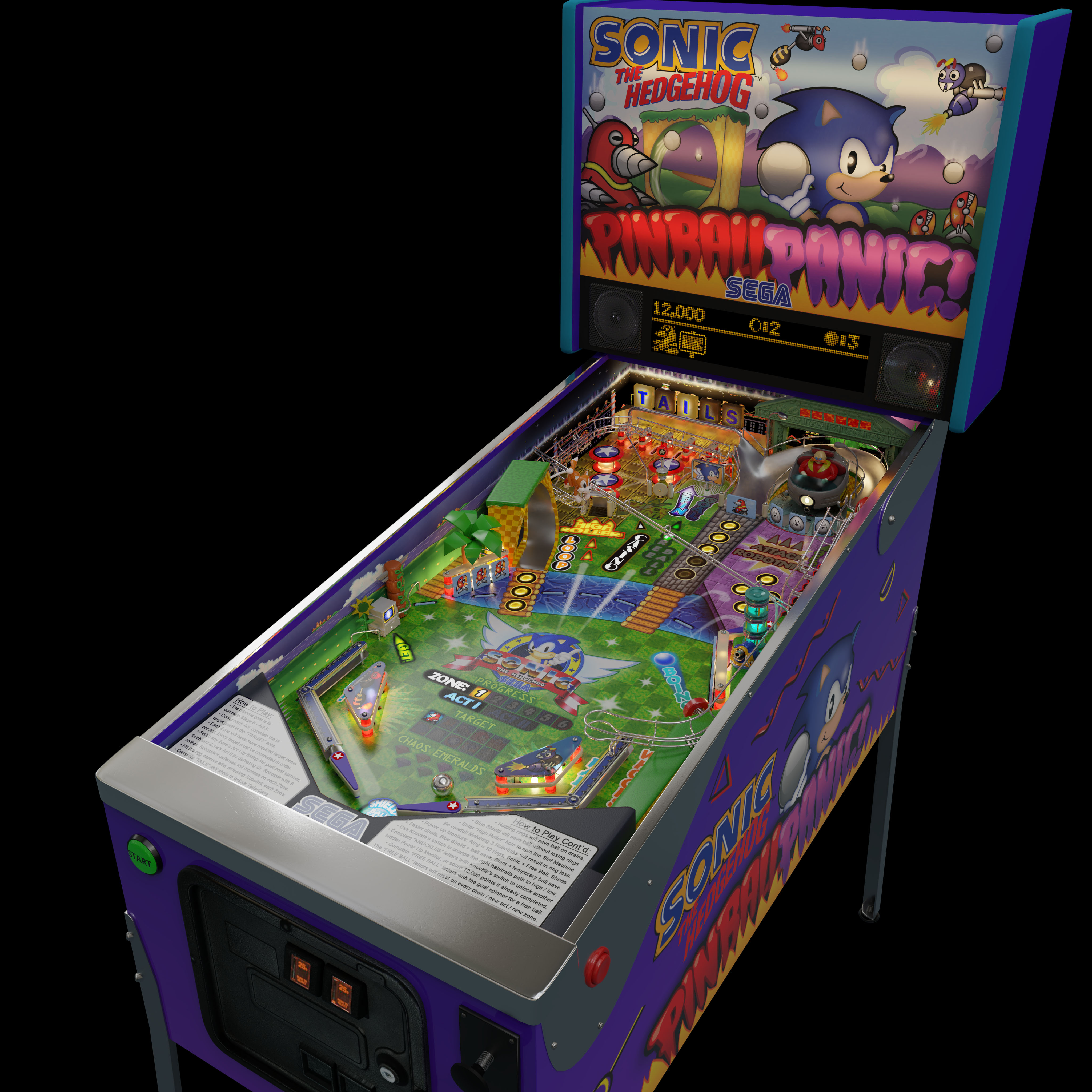 Tails: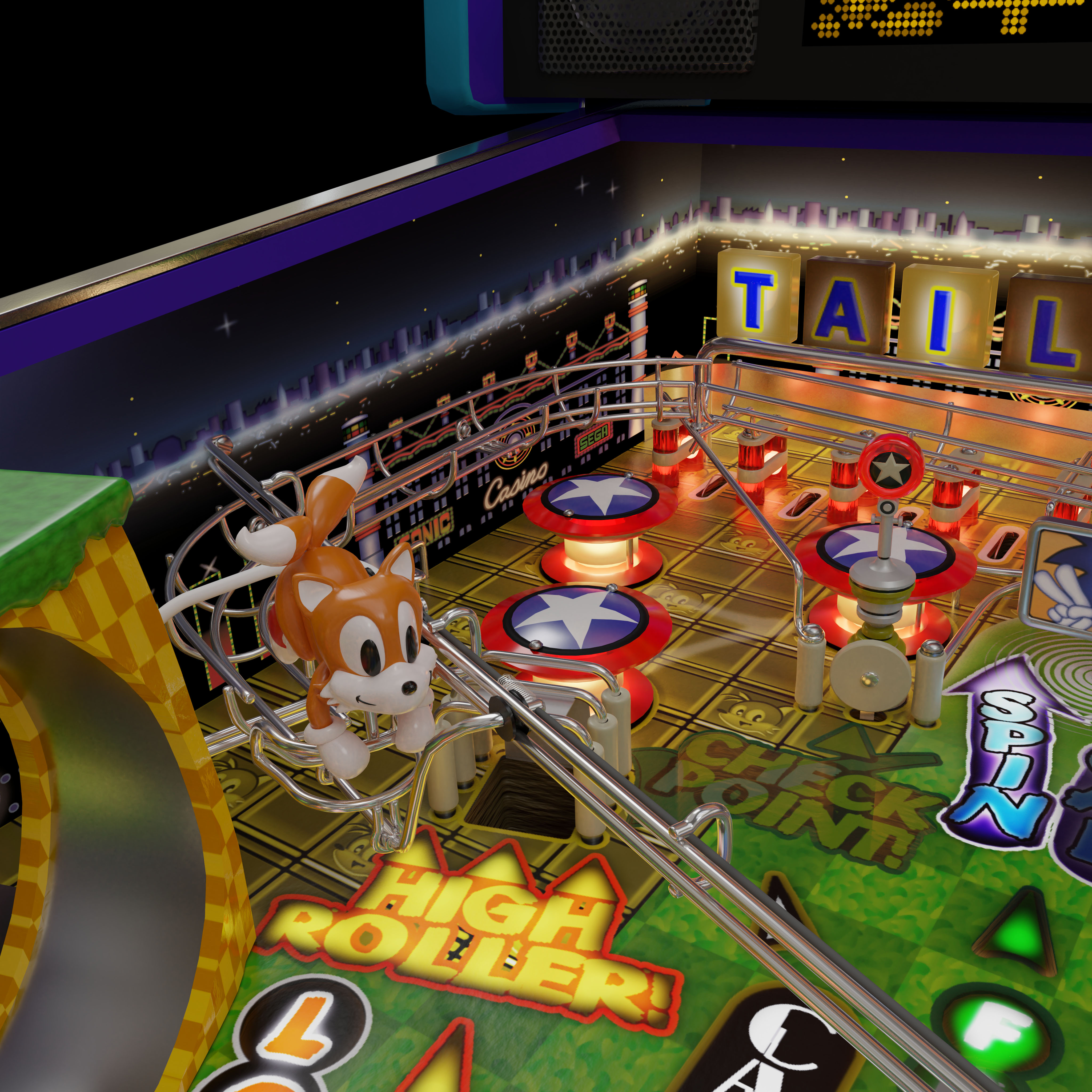 Robotnik and Knuckles: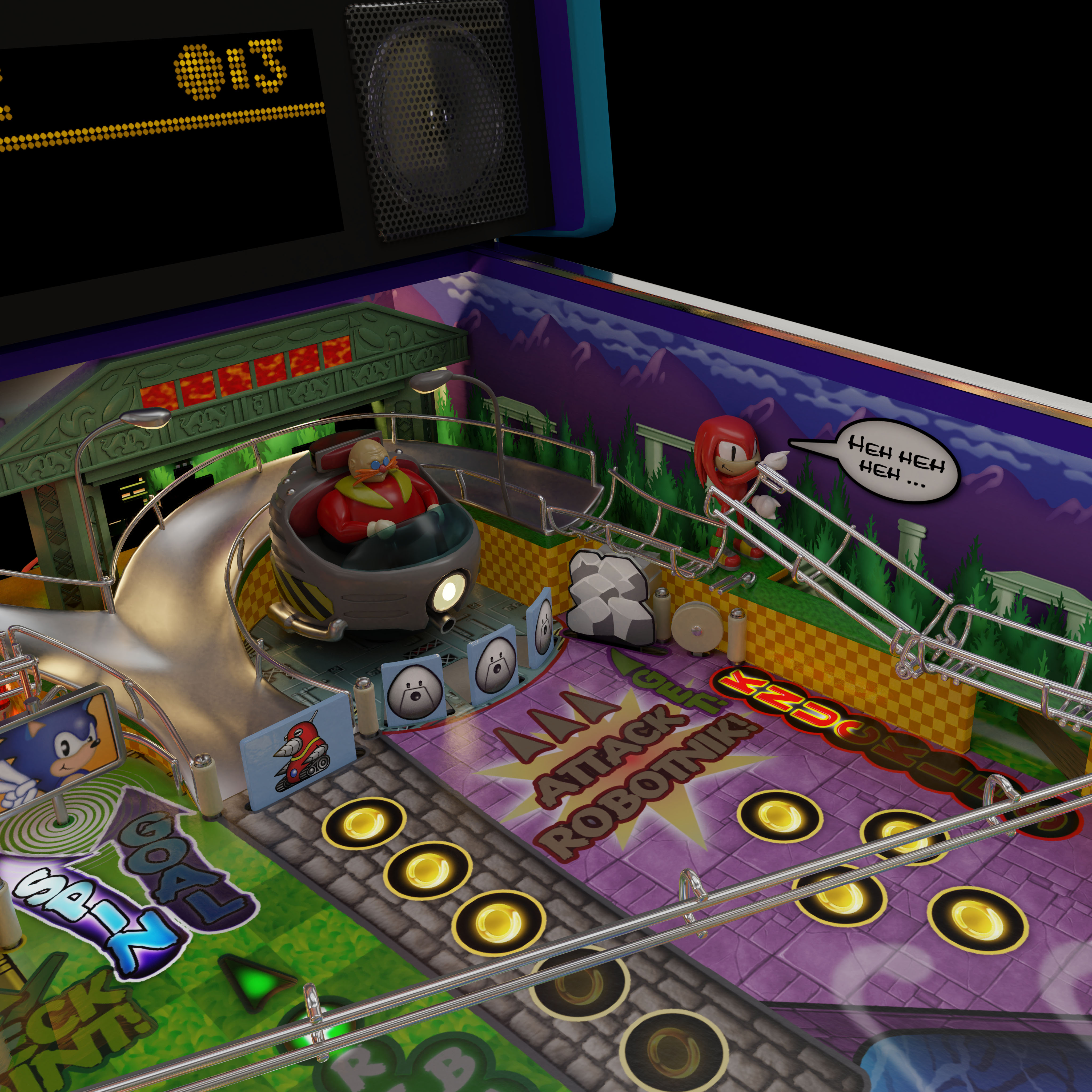 Just for fun I decided to take the right-hand side render and Photoshop a fake "era" magazine Ad for the the pinball machine. I tried to write the Ad copy with same the "edgy" feeling SEGA was known for in the 90's. After I Photoshopped the render into an Ad, I modeled a quick magazine/table and re-rendered the render. Meta. Can you tell what the left-magazine page has on it?
I also used a CMYK-color half-tone filter on the final image texture to make it look like print on the surface of the rendered magazine.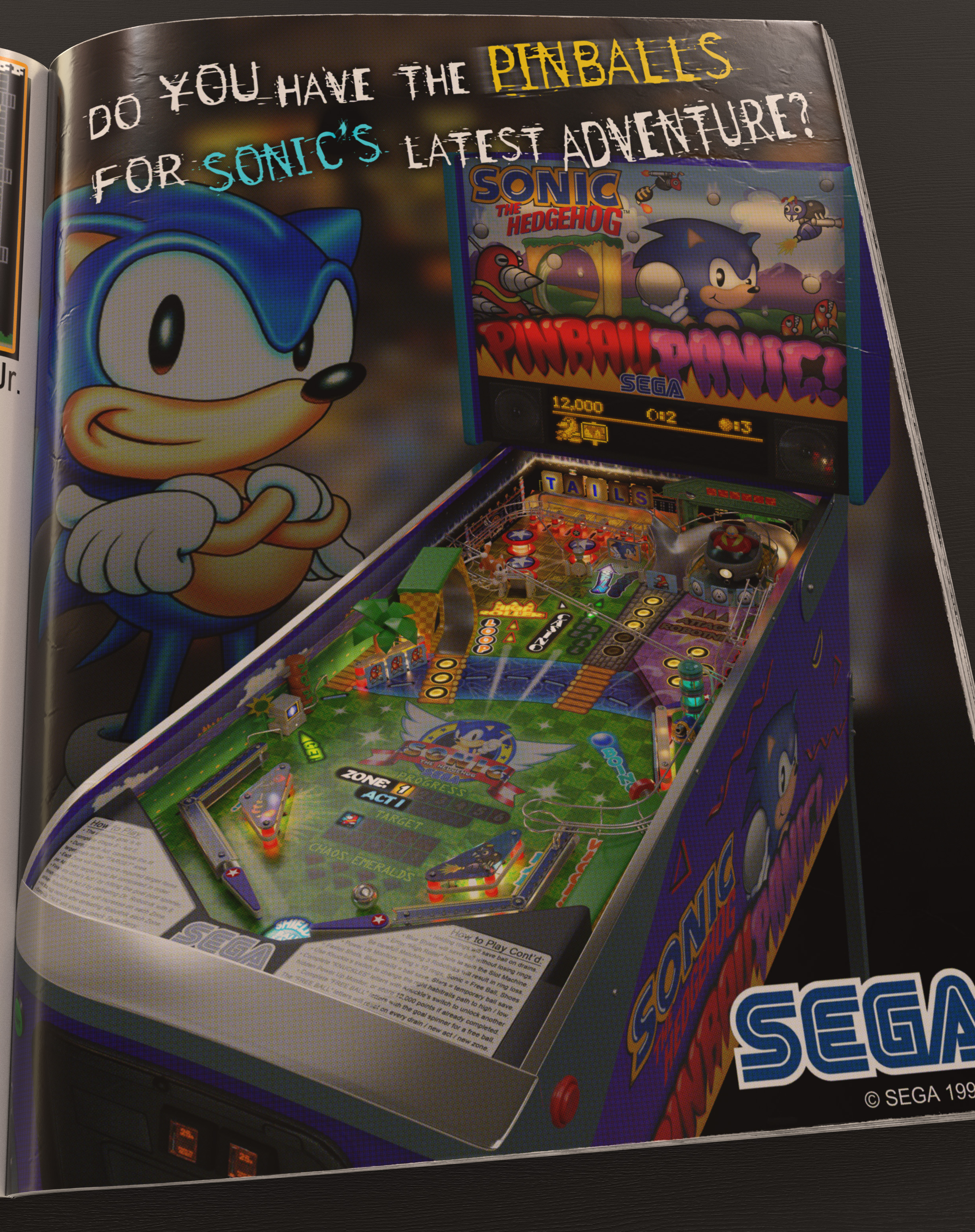 While I am happy with the final renders for this project, ultimately I became more concerned with making this project a game. If I had unlimited time I would spend another mont tweaking the renders to perfection… I would also spend another month tweaking the layout and game play to perfection as well. As it stands, I'm happy with the renders, but I know I could do better. But I'm very happy knowing I also turned this into a playable game.
Of the final renders, I think the faux era magazine Ad is my favorite – I deliberately introduced print artifacts, like the CMYK half-tone pattern on the pages, the "crinkle" map on the page surface, and the worn page edges. I deliberately cut off "©SEGA 199…" to make the Ad's date vague and not constrained to a specific year. Of course, Knuckles first appears in 1994 so the pinball machine would have to be made after that. But I didn't want to commit to a specific year, so I left it cut off.
I like the low fidelity of the faux Ad, and the story it tells more than the raw renders. Though ultimately I'm happy to have it running as a game.
December 17, 2018 at 12:18 pm | 3D Modeling