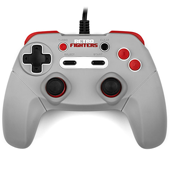 The Retro Fighters NES Controller was a total impulse buy. I was at my local Brooklyn Microcenter to pick up a hard drive and some plastic for my 3D printer. I happened to notice this, and I'm not sure why, but I threw it in the basket to to play with and review later. I love playing with and reviewing various human-input-devices, and I have more controllers than are really necessary. (For instance, I have the correct USB-adaptors for SNES, Genesis, GameCube, NES etc. and only emulate with the real controllers, lol).
Anyway, the interesting thing about this product is it actually has a NES plug as well as a USB plug! That means, you can plug it both into your PC as well as an original NES if you still have one kicking around. The idea, therefore, would be to use analog sticks on a NES! Then again, that doesn't make too much sense since you can already use analog sticks with a NES emulator on PC… annnd… it doesn't really work to well. Those games weren't designed for analog controls, so it's mostly just awkward.
But how is it as a controller? Well the ergonomics are decent, it's comfortable in the hands. But.. the DPad makes it hard to tell when you're pushing diagonals, which is shockingly common for most controllers these days. I think I was watching an Ashens review on YouTube, and he said something to the effect of "It's like everyone collectively forgot how to make DPads except Nintendo." It's true. I rarely find good DPads these days.
The A and B buttons feel fine. The shoulder buttons are also ok. The triggers… feel a little squishier than I would like. Instead of feeling solid and hinging like an xBox controller, they feel more springy and kinda spongey. It's not terrible though,  I'm not a fan of the PS4 Dualshock triggers either, but plenty are happy with them.
Now, using it for a NES is fine – if you can get used to the DPad or just rely on the Analog sticks. But for a PC controller, it's kinda pointless with just two buttons. I mean, sure you could use it with a NES emulator, GameBoy or Sega Master System emulator. But those aside, not many games will work with two primary buttons. I would suggest they used 4 buttons instead, with two of them acting as turbo when plugged into the NES, but otherwise fully mapable when plugged into PC. Best of both worlds.
Overall, it was affordable enough to be an impulse purchase for me, but it's kind of a niche product that doesn't seem entirely too useful for PC or for NES. I still rock my original rectangle NES controller via USB adapter every time I emulate.
Now the same company, Retro Fighters, is making a Next Gen N64 Controller. THIS I'm super excited for. I do have an N64 controller currently in my possession, but it's not working with my USB adaptor at the moment. Becaus the C-buttons / A, B layout is very unique for the N6, it's hard to recreate on other controllers. I would get a lot of use out of a proper two-handed N64 Controller. Hopefully I'll get this for a future review!
July 19, 2018 at 3:36 am | Technology Reviews