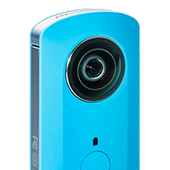 I LOVE This device!
I originally got to try a Theta M15 camera at the 2015 San Mateo Maker Faire. We gathered around and took a group shot. It was cool, but it's impressiveness hadn't sunken in on me yet. Recently I started working at YouVisit, a virtual tour / virtual experience / virtual reality company in New York, NY. Our virtual tours consist of 360 Panos, 360 Videos among other media. It wasn't until making some Urban Exploring tours that I realized how valuable a 360 camera is. I wanted a Theta, and was even considering buying one. Out of the blue, my friend hooked me up with one for Christmas. I was in shock – just what I wanted – and I hadn't told a soul.
The image quality of the M15 could be a little better, though I've tried the newer Theta S and it's not much better. I feel like in a couple generations this device will be perfected. But given the quality of my M15 – it's more than acceptable, I really can't complain. I love doing photo shoots with this thing, and now take it on every Urban Exploring trip.
I haven't tried its video features yet, but I'm not particular inclined to try. The M15 has limited video capabilities, and while the S has better capabilities I feel like 360 video is not as exciting as are 360 panos. With a 360 pano, you can take your time and really enjoy looking around. With a video, you feel rushed to keep up with the action. So, I don't miss video.
By far the coolest thing about the device is the wireless shutter mode. The Theta can be put into WIFI mode, which turns the device into a WIFI network. If you connect your smartphone to it's WIFI signal, the companion Theta APP can communicate with the camera. This means, you can set the Theta up on a tripod, and LEAVE the room! Then with a button push on the APP the photo will be taken and sent to your phone to preview. This is incredible. Instead of relying on Bluetooth which is short-range, they actually gave the camera full wireless NIC and the ability to communicate via WIFI. Thus, the effective range of the wireless shutter is at least 15 feet and even goes around corners and through walls. Incredible. I was able to flick a few shots below with the wireless shutter, as you can see nobody is holding the camera up!
Since you can get a M15 for a little cheaper than the S, I recommend swooping up on one. It's an awesome camera to have around, especially if you like exploring like me. Below I'll embed some of my favorite panos. They should work on most mobile browsers. I'll let the photos speak for themselves!
On The Train (Click to drag 360!)
During the NYC Snowpocolypse
Snow under the Subway
Urban Ex Micro Kitchen
On the Roof of "The Quad"
More Roof Top Shots
In some kind of kitchen in The Quad.
Where the Graffiti Lurks
Toilet's POV.
How awesome is it to be able to take a Google Streetview quality 360 photo with the push of a button? I am speachless.
February 22, 2016 at 5:45 am | Technology Reviews