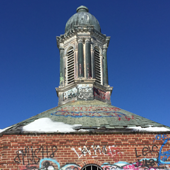 The days after a major NYC snow storm I found myself once again Urban Exploring a giant sprawling complex of abandoned buildings. This time, I went to the sub-section called "The Quad." The area has 4 pairs of large wings, several stories each, and a sort of communal kitchen roundabout connecting the wings in the middle. It was incredibly cold – so we didn't spend too much time in there, but I did get some excellent shots.
The most exciting news, though, was that I got to finally take my new Theta 360 Camera out adventuring!
Check these sweet, sweet, 3D panos below, and of course, all the regular photos after that!
The first room we got to rest at:

A cool micro-kitchen area:

Found a ladder to the attic, and took it. Seen from the top of the steps:

Was super excited to get this roof shot!

Another attic:

And another sweet roof:

All masked up:

In the stairwell from the roof:

The central roundabout kitchen area on the top floor:

Where the graffiti lurks:

Toilet POV:

Pick your darkness:

Group shot after!

Between a couple wings:

And the rest of the non 360 pics!
February 28, 2016 at 4:37 am | Urban Ex