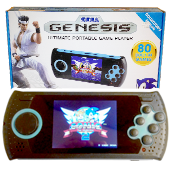 About 5 or 6 years ago I saw one of these in a blister pack hanging on the shelves at Fry's Electronics. Instead of blue trim it was orange, and instead of $40 I think it was $70. At the time I was pretty broke and couldn't get it, but I always wondered about it. A couple months ago I learned that Bed Bath & Beyond (random!) was selling basically the same unit with blue trim, in new packaging for a more affordable price. I guess there are lots of Sega fans in my area, because most of my local stores were sold out. After a longer-than-expected trek to a distant BB&B I finally had my hands on one.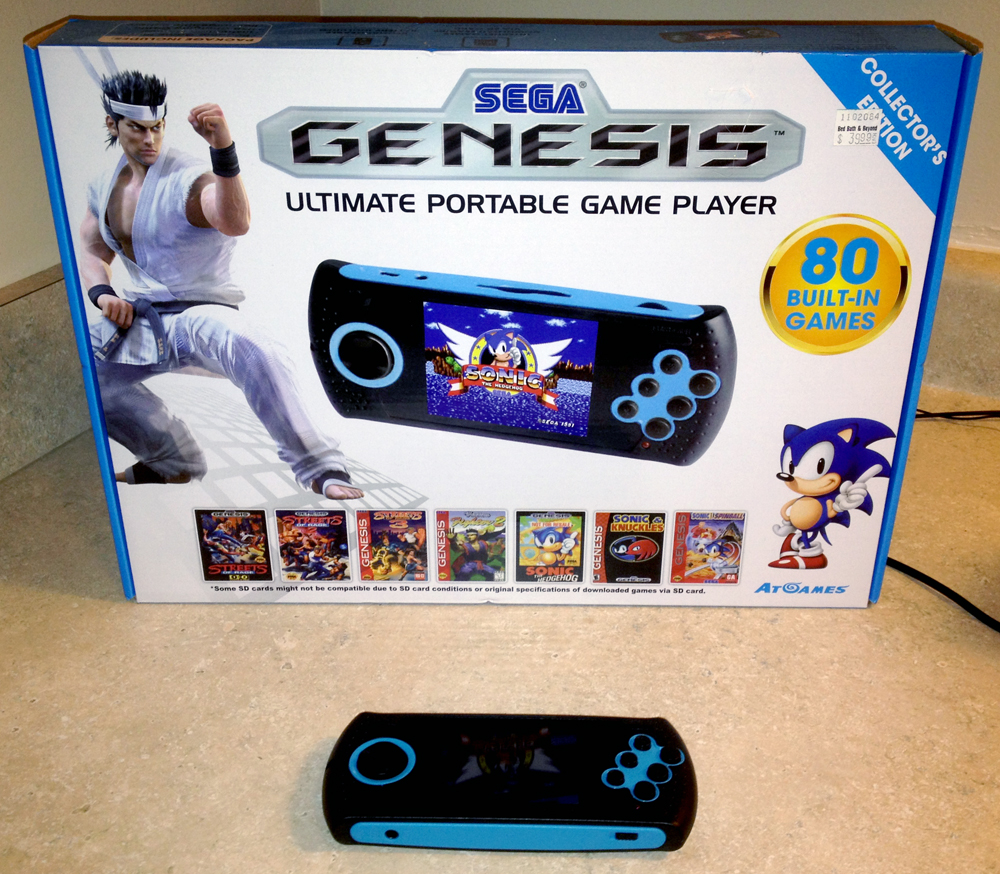 The thing that excited me most about this was the ability to expand it with ROMs from the internet. Surprisingly the device has an SD card slot for just that. I doubt many average consumers would know how to find roms and not get a virus on a sketch rom site, but who cares. For those of us that do, that's a real treat.
Build Quality
The device itself feels good in the hands and the buttons feel great to push as well. They aren't mushy and they aren't too stiff either. They're juuuust right. My hands are big though, so having the ABC buttons so close to the edge is a bit uncomfortable but not too bad. The unit it self feels sturdy. The plastic doesn't feel cheap either, which is nice.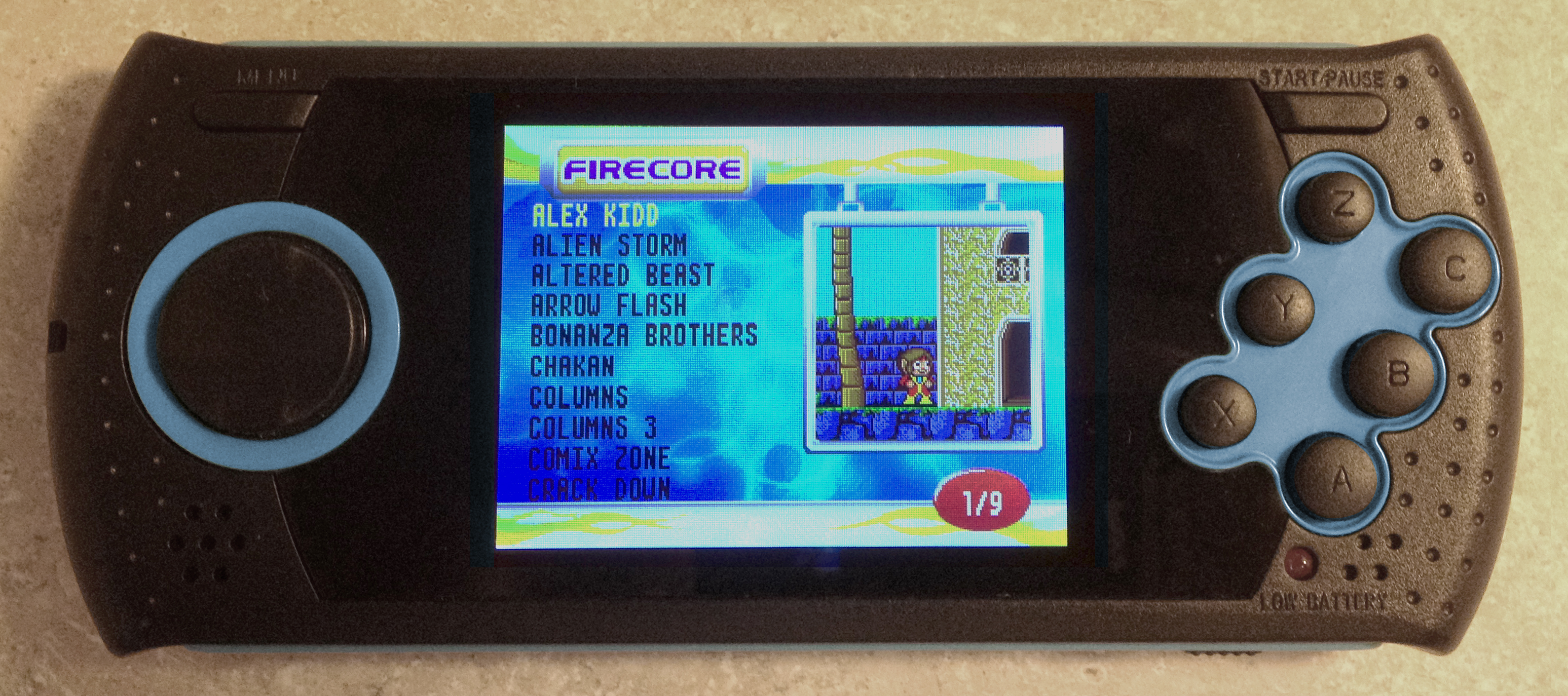 The Screen
The screen is very sharp and looks good, but the back-light is borderline too bright. This makes the screen have awkwardly high contrast. The resolution of the screen is almost pixel perfect to that of the genesis but it's not exact. The games aren't anti-aliased (which is a good thing), but because of the screen size the games are very slightly stretched to fit the screen. The effect of the stretch is that some horizontal rows of pixels are doubled. This isn't game-breaking, but if there's a perfectly tiled background you'll notice it when scrolling. Compared to the portable NES I reviewed, this has a much better display – it's higher res than Genesis, rather than being lower res than the console it self like the NES.
The Sound
Audio quality is by far the biggest bummer on this device. People who grew up playing Sega Genesis became very accustomed to the sounds of the on-board synthesizers. For whatever reason, ATGames couldn't emulate the sound correctly. I should mention now that this is essentially a hardware emulator – it's chipset has nothing to do with the original genesis. The games music and sound effects are all off. Not that they're choppy or anything, the play back is smooth. However, the notes are off-key and off-pitch. It makes the music sound weird and unpleasant. The voices of the instruments are slightly wrong as well. If you want the complete nostalgic experience, the sound will be a major source of disappointment with this device. I wonder if synthesizing the sound correctly would have been more costly or if there's just a few lines of code that need to be tweaked.
The Games
Below is a screen shot of the back of the box, featuring all eighty games. You'll notice that the top four rows are actual Sega Genesis box art, and the bottom four rows are screen shots. That's because half the 80 games are actually random third-party / home-brew games that were never released on Sega. I wonder if they actually are written for the Genesis hardware and run in the emulator, or if this device actually runs them natively. It would be neat to see someone extract them and run them on a real Genesis if they are emulated on the device.
The game selection of Genesis games is decent, but as long as you have a SD card handy, you can basically play the entire Genesis Library, with the exception of a few unemulatable titles.
Click the picture below to see up close: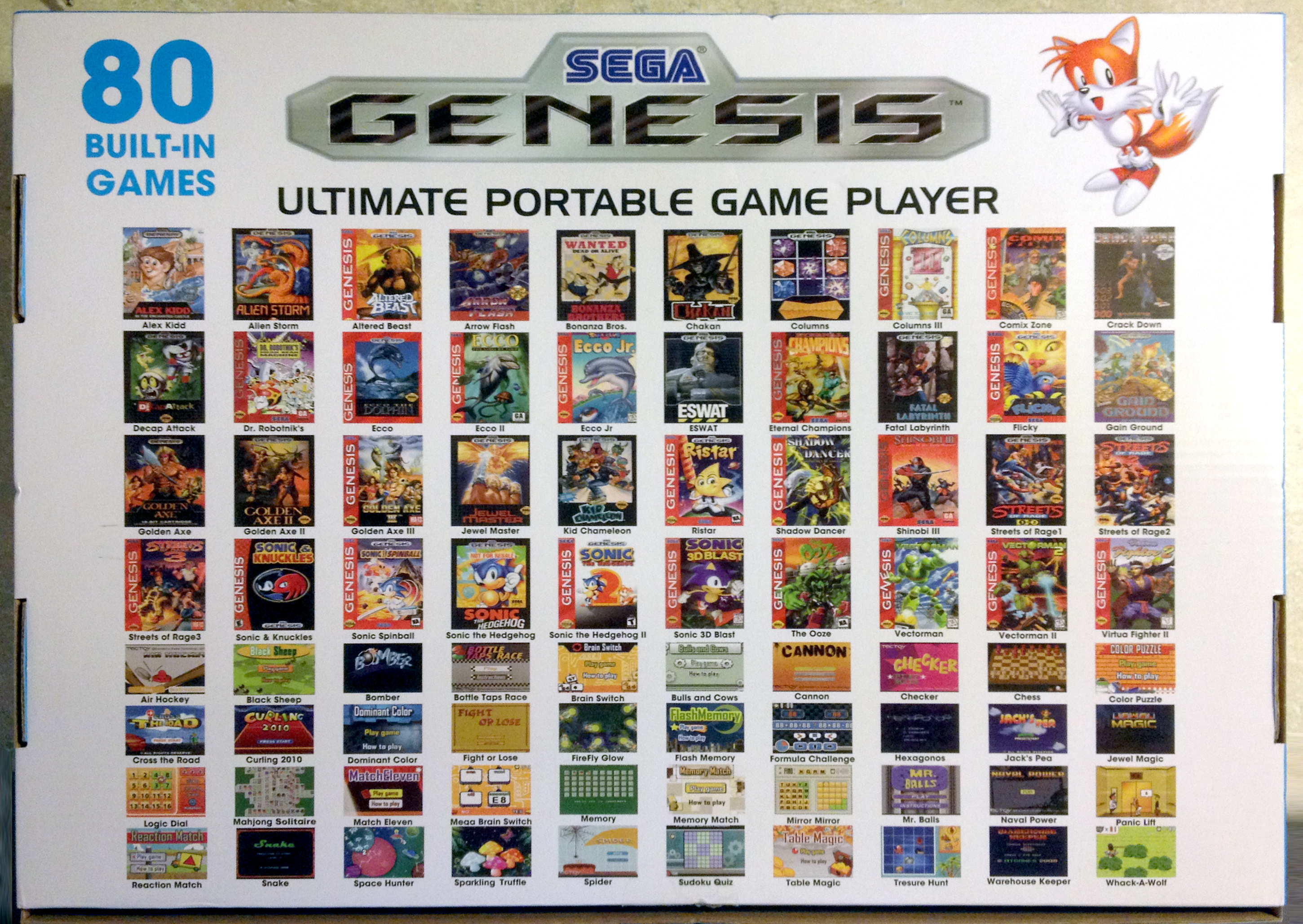 Other Features
The device is rechargeable and uses a standard mini-usb plug (note: mini, not micro). If you have a TLS-to-AV connector you can connect this device to a TV via Composite Signal. Unfortunately the cable is not packaged with the device. I'm not too distraught by that, because those cables are easy to come by.
Overall Thoughts
I'm glad I finally picked one of these up and got to play with it after wondering. I'm sorely disappointed by the broken audio, but not enough to return it. I'm really glad that devices like these exist, and I want to encourage companies to make more similar things. I hope the sales are successful and that might encourage ATGames or other companies to make higher quality retro handhelds in the future. I checked the internet and many other people complained about the sound issue, it wasn't just my device. ATGames also makes a Sega Genesis console for TV's with built-in games and wireless controllers. It uses the same software, and has the same audio glitch.
Would I use this on a regular basis? Probably not. It doesn't have save states or any memory to save them to, so when you power off all progress is lost. If I want to play Sega I'd probably just emulate it on my computer at home. If I'm on the go, I'd probably play my Nintendo 3DS first. That said, I think it's a nice novelty item and it can live next to my bed to cure mid-night insomnia. I would recommend this if it's price drops and if you don't mind not having save-states. I would fully recommend it for it's $40 if the sound was on point, but alas, it's not.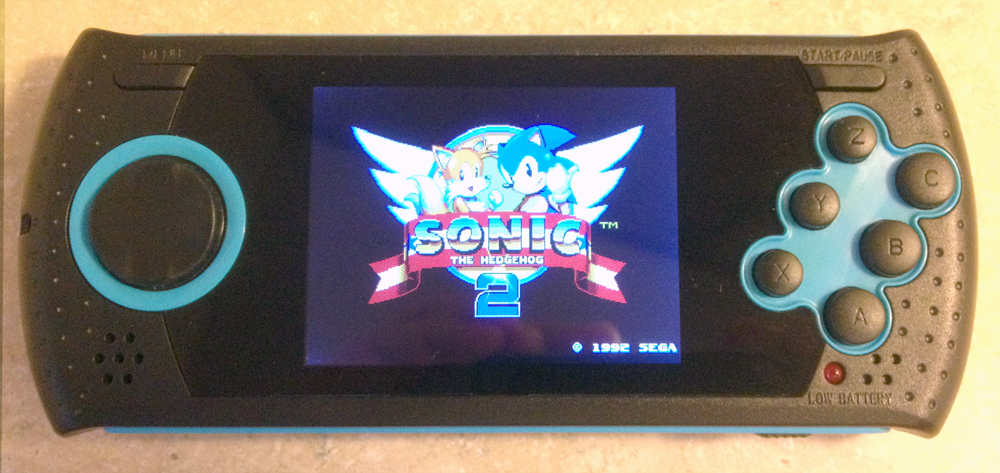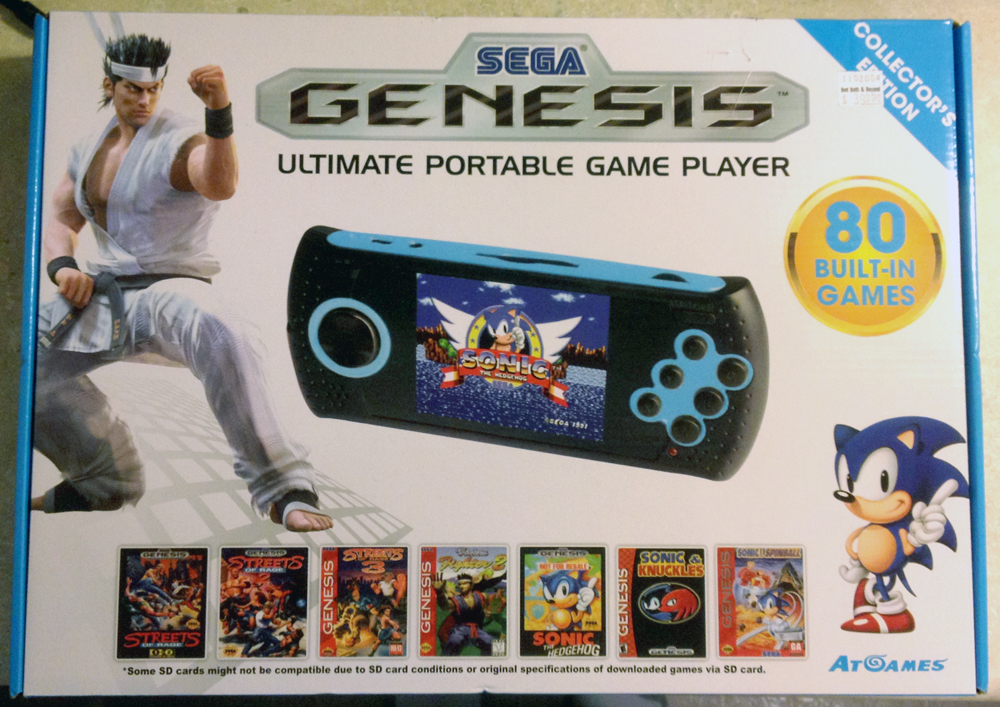 February 17, 2015 at 6:09 am | Technology Reviews