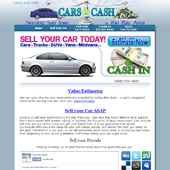 I needed a car, but I didn't exactly have a lot of fluid cash to spend. I came up with a plan. I noticed that a local used-car dealership didn't have a website. Without asking I whipped up a demo that I was proud of. I walked onto the property one day and asked to see the owner. After talking to a few of the workers there I eventually got a chance to show my site to the man in charge. Unfortunately he wasn't looking for a site for his used car lot. He was however, looking for a website to buy used cars! He gave me the specs and I went home to take a crack at it.
This was actually a pretty exciting project for being one of my earlier gigs. I had to reach out to Kelly Blue Book and interface with them so the website could have a car-value estimator tool on it. I also was asked to make the site popular on Google. At the time I had heard of the term S.E.O. and I gave it my best shot. Ultimately I just dipped my toes in S.E.O. and that's not really a road I want to go down again, too much black-hat majickk. One of the S.E.O. techniques I used was to make a corresponding Facebook page. But I needed it to have a lot of "likes." I found a service called Mechanical Turk from Amazon. I ended up paying people in India 5 cents per like. Needless to say, overnight carstocash.com had hundreds of likes.
Other than that, the site is a basic PHP site, with a couple plugins and a few snippits of JS here and there. It hasn't exactly aged well but for the time, I loved it and he was pleased as well. I ended up getting a free car for my efforts! A 2003 Kia Sportage stick shift – yessss!
The site is no longer running, but I have a hosted copy here.
June 5, 2014 at 3:47 pm | Websites