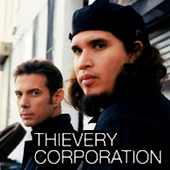 I discovered the Thievery Corporation many years ago, and they definitely left an impact.  There was a time when they were all I played. Each of their albums has it's own style, all in the down-tempo, chill out, dub and similar genres. One of the things I like most about Thievery Corporation is their worldly sounds.
Via Wikipedia:
Thievery Corporation is a Washington, D.C. based recording artist and DJ duo consisting of Rob Garza, Eric Hilton, and their supporting artists Rob Myers, Frank 'Booty Lock' Mitchell, Jeff Franca , Ashish Vyas and longest time muse singer/songwriter Loulou and live vocalist extraordinaire Natalia Clavier. Their music style mixes elements of dub, acid jazz, reggae, Indian classical, Middle Eastern, and Brazilian (such as bossa nova).
The Lagos Communique
The Richest Man In Babylon
The Lebanese Blonde
Shadows of Ourselves
When I get a chance I'll probably dig up more of my favorite songs by them to post… there's a lot, with such a varied style.
October 10, 2013 at 6:24 am | Favorite Musicians