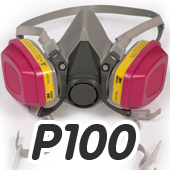 For my first TotT Urban Ex article, I'm going to discuss the importance of P100 respirator masks. Going in abandoned buildings, drainage tunnels, and other places where air quality is questionable, poses several hazards.
First, there's the lead paint. Many abandoned places are old places, constructed long before lead paint was banned. As the decaying paint flakes, it leaves behind particles which settle on the floor. Though the air quality might not initially be bad upon entering, it only takes a little bit of footwork to kick up clouds of toxic lead paint dust. It's particularly unnerving when you have a flashlight in a dimly lit room, and you can see massive swaths of unknown dust floating in front of your beam.
Next, there's asbestos. Not the miracle material once thought, Asbestos turned out to be particularly nasty for the lungs, causing more than one type of cancer. When it comes to killing you, it does asbestos it can. Bah-do-chhh. Many old buildings used Asbestos as insulation for walls and pipes before fiberglass became the norm. Speaking of fiberglass, it's not much better. Fiber glass can create airborne fiber strands that can settle in the skin or the lungs. No fun.
Finally mold is yet another air quality hazard. Many kinds of mold can make you sick, but deadly black mold should be avoided at all costs. I've actually found black mold on more than one adventure. Not only did I get away quickly, I was properly equipped with a P100 respirator mask.
Respirator masks are rated with a code letter and a number, such as N95 or P100. These ratings are assigned by the NIOSH, and you should only buy a mask that is NIOSH rated and approved. The coding scheme is as follows:
"N-" – Not resistant to oils.
"R-" – Resistant to oils.
"P-" – oil-Proof.
"-95" – Able to filter out 95% of dangerous substances.
"-99" – Able to filter out 99% of dangerous substances.
"-100" – Able to filter out 99.97% of dangerous substances.
On one of our earlier adventures, we knew that air quality might be an issue, so we picked up some N95 masks from the hardware store. While they may have helped us stay stafe from "95%" of hazards, we luckily did our research after that trip and picked up some $30 P100 respirators. I learned from a popular Urban Exploration community that N95's are sometimes called "Death Masks," which makes sense since they give you the illusion of safety and may give you the false confidence to enter a dangerous location. N95s don't protect against asbestos amongst other things.
Of course it's important to get a P100, but it's equally important to wear it properly. After the mask is place on and fitted, you should be able to cover the breathe holes on the filters and gently blow out. The mask should not leak, and slighly try to inflate / lift off your face. Once you pass that test, you should try inhaling slightly, while still blocking the filter's holes with your hands. The mask should suck down and conform around your face, whilst letting no air in. It should create a vacuum inside the mask. Once the mask is fitted well, it should be doing it's job protecting you!
September 28, 2013 at 1:19 pm | Urban Ex Articles