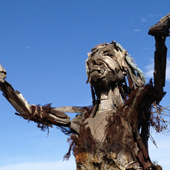 While researching Drawbridge (more) I caught word of an giant homeless community that lived on a peninsula called "The Bulb." The wheels were in motion and soon I found myself on this sociological oddity of a land mass.
Supposedly The Bulb was once a land-fill garbage dump slowly clogging up the bay. The project was shut down and the landfill was covered up and forgotten about. The city never developed it. Soon a community of homeless moved in, and makeshift shelters and tents started cropping up. They even have a take-something-leave-something style library that is run by one of the residents, who built the library (which is also his home) out of a ship wreck. Luckily he was home whenwe visited, and we got to meet and interview him for a bit.
The residents there seem friendly as long as you keep your distance from their private space. They're used to outsiders exploring, as locals have re-purposed the bulb as a place to walk their dogs off leash.
There are several geocaches and art installations scattered around the bulb, both professional and DIY. Someone even built a cement castle there, which has about 5,348,932 layers of graffiti paint.
August 31, 2013 at 7:46 am | Urban Ex