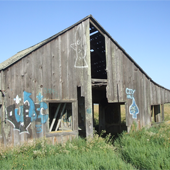 Back in June 2010, I made my first trip out to the famous Drawbridge, CA. Drawbridge is now a ghost town sinking into the marshlands of the South Bay. Many of the houses can still be entered, but most are in poor condition.
It once was was a lush gettaway for hunters and gamblers, known for it's bars, prostitution and speakeasy.  The town could only be accessed by train, so no roads (read: cops) went out there. When the marsh starting becomming landfill, most of the wildlife moved elsewhere and the towns hunting economy ended. The last resident moved out in the 70's, at which point the city was reclaimed by California as wild-life preserves.
To get there, you have to take a path out into the bay, and then crossover to live train tracks – the same train tracks that have ran through the town over the past hundred years. That leg of the journey is the most nerve-racking, but also the most exciting because it's over quick and the town finally comes into view.
August 31, 2013 at 6:12 am | Urban Ex