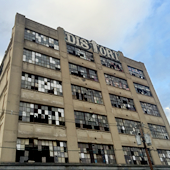 I peeped this building when trawling Google maps for NYC graffiti yards. It had the tell-tale signs of an abandonment from the graffiti visible in Satellite view. I eventually made my way out there a few weeks ago whilst graff hunting, but the sun was setting upon arrival. I finally got a chance to revisit the location in day light and it went better than expected. I found several Goombas, a graffiti artist I follow, as well as one piece in particular that I was very glad to find.
The building seemed to be an old factory, from back when they were built multi-story. Interestingly, the second and third floors had an aluminum framework laid out as if they were refurbishing the building for another use. The beams were dated 2007, so I guess the project was abandoned. Weird.
We started from the roof, which was awesome, and then moved one floor down at a time.
Check the photo's below:
April 11, 2016 at 7:21 am | Graffiti Yards, Urban Ex