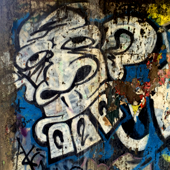 I had never been to New Jersey before nor had my roommate so we decided to get lunch in Jersey City. We took the PATH train from the World Trade Center station. It was fun to see the Jersey subway system. It was cute. After exploring downtown a bit, we got lunch, and then split up. I immediately headed toward a graffiti yard I found on Google Maps.
This spot is located under a couple of very high freeway overpasses, with train tracks cris-crossing underneath. All the support pillars were crushed with graf, as well as train bridges and tunnels.
I noticed that Jersey City is very clean and has wide streets compared to NYC. It reminded me of down town San Jose in a way: tall buildings, clean environment, boring. In Manhattan it's relatively common to see graffiti on rooftops and tucked away in alleys. In Jersey City it was out of sight. I guess JC is a lot like California in that regard: graffiti thrives in "graffiti yards," rather than on the street.
This was the first time since moving to NYC that I felt like I was truly at a graffiti yard. Luckily I found some of my favorite east coast artist out here, including Goomba, Plasmaslug and Sweet Toof.
March 29, 2016 at 3:53 am | Graffiti Yards