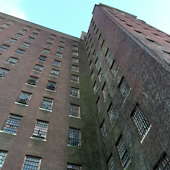 The other day I went out with another awesome explorer I met online. We drove an hour away from the city to this magical land of abandoned buildings. This sprawling complex was huge and full of old medical / psychiatric buildings. We only had time to do one, but it was a huge job. The scale of this behemoth is hard to communicate – each floor was enormous with multiple rooms, and there was twelve floors plus a huge attic space with machinery. Though I previously explored a "skyscraper" this building is by far the largest I've been able to explore.
Rumor has it that the entire complex has a series of steam tunnels connecting all the buildings. We tried to find an entry point but couldn't. On the way out we met some fellow explorers and they gave us a possible lead on finding the tunnel network for next time. And there definitely will be a next time.
So far I'm adjusting well to the New York winters. One of the rooms we entered had a leaking ceiling – complete with icicles. On the roof there were large puddles about 6 inches deep, with a layer of ice on top. My exploring buddy said she was freezing, but I was handling it well – barely noticed the cold at all. Definitely first time I've seen pools of ice and icicles in an abandonment.
Unfortunately the graffiti was pretty weak. There was a couple of decent pieces, but mostly whack. We didn't have time to complete every floor before sunset, so maybe I'll go back and thoroughly check for graff.
One thing that was strange, was the amount of traffic this building had from suburban white teenagers. We found the entry point by following some kids and seeing where they went it. We quickly ran up and followed them in. We said "hi," but they didn't stick around to talk. While in the attic area, another separate couple bumped into us, and while heading down on the stairs we met up with two other couples. Earlier in the adventure, we kept hearing glass break – someone was poking glass out of the broken windows near the top stories. While we were getting ready to leave we saw people on the outside of the fence trying to find a way in. It was amazing to me how much traffic this building had.
It also made me a little upset – these kids don't respect the building, and definitely don't respect the existing graffiti. What's worse, is that they do stupid shit like poking out glass, attracting attention to the building – which will ultimately get it sealed up. I guess the irony is that none of them were smart enough to wear respirators. I hope they fare well with the black mold and asbestos… *sigh*
Check the pics:
January 4, 2016 at 3:46 am | Urban Ex