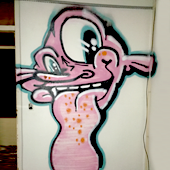 Several years ago my exploring buddy and I got ourselves into one of the most memorable adventures: a giant Asterisk shaped building with over 400 rooms. Well, there was actually two of them, and at the time the second one was too tough to get into. We waited patiently over the years and finally the second one finally entered our radar on Instagram.
Interestingly, at the time we did the first building the second one was almost virgin. Views from google satellite showed the interior atrium of the building being mostly clean, and glass mostly intact. I guess we were some of the last people to get into the second one – it was destroyed inside. In fact, this place was more crushed than the one we did years earlier.
We ended up spending over four hours inside this behemoth. It's so huge, that, if you want to check every room there's no way you can do it quicker. We took breaks after every couple hallways so we could take our respirator masks off. Over all, I'm super pumped that I finally got to check the second one off my list.
November 27, 2015 at 9:01 pm | Graffiti Yards, Urban Ex