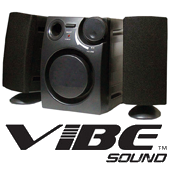 As I've written about before, I enjoy gambling on cheap technology. Most of the time I'm pleasantly surprised with the quality, and at a minimum I would say I at least break even. But nothing can excuse this product. No amount of rationalizing and justification can make these speakers a solid purchase. They were only $9.99.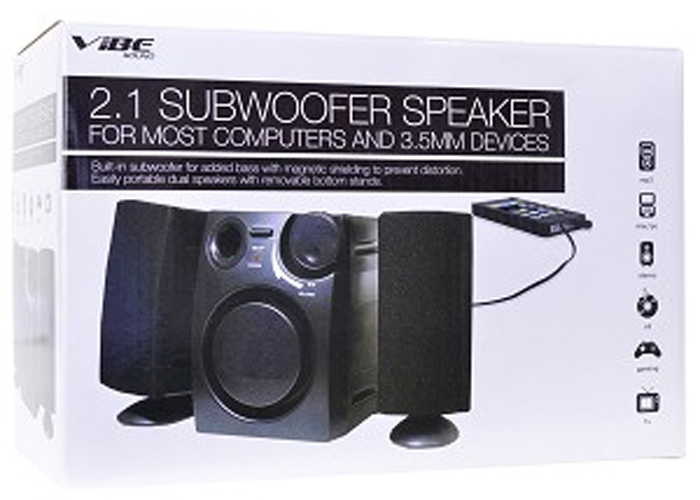 When I saw these at my local Fry's I was intrigued. They looked cool, and how totes adorbs is a tiny little subwoofer? I knew it couldn't be too powerful being so small, but I was really curious none-the-less. I passed on them, but the next time I was at Fry's a week later, almost all were sold. Feeling like I would never know how fantastic these hot-sellers were, I took the plunge and picked them up. I had to know what a mini-subwoofer sounded like. Seen below is the adorable setup with a Pepsi for scale.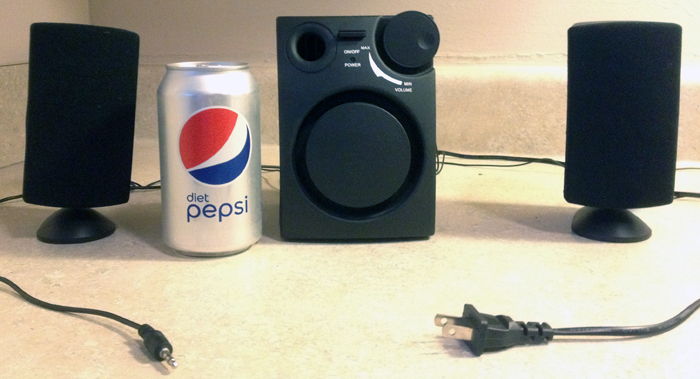 What you see above isn't anything too fancy – just a set of speakers that hook up with a regular audio cable. No Bluetooth or docking capabilities, just plain ol' speakers. The box calls them "2.1 Subwoofer Speaker." Now there's three things wrong with that title. First, they're not 2.1, that's not a subwoofer, and speaker should be plural.
Not 2.1
I've worked on speakers before, and usually when I wire them I verify the sound by playing AC/DC's Hells Bells. After a few chimes of the bells, the guitar starts playing in the right channel. If it doesn't, something's wired wrong. My first impression was that these sounded pretty bland. I played Hells Bells and to my shock-and-horror I discovered that these are actually mono! I wondered if I got a bunk set, but I verified by checking some very poor amazon reviews that everyone got a mono pair of speakers. Well, okay the 2.1 is an out-right lie. But there's a subwoofer, so I guess there's still a chance that they're 1.1? Lol.
Not a Subwoofer
Though it looks like a cute little subwoofer, it's just a slightly larger speaker than the two satellite speakers. That's it. It doesn't just play the low end either, it's literally just another speaker playing the whole song in mono. Okay, so now they're just 1.
Build Quality
Holy crap are these cheap. The plastic has that cheap, brittle, shiney feeling too it. They are incredibly light, I'm not entirely convinced that these aren't just paper-mache. One speaker stand was molded crooked and has to periodically be bent so the speaker can stand straight. (See the above left speaker!)
But the most shocking part of this build, is it's cabling. First, the audio input line and the power cable are permanently built in. I find it interesting that it's cheaper to build the cables in, rather than just add ports and package premade off the shelf cables. But nope, it's all built in: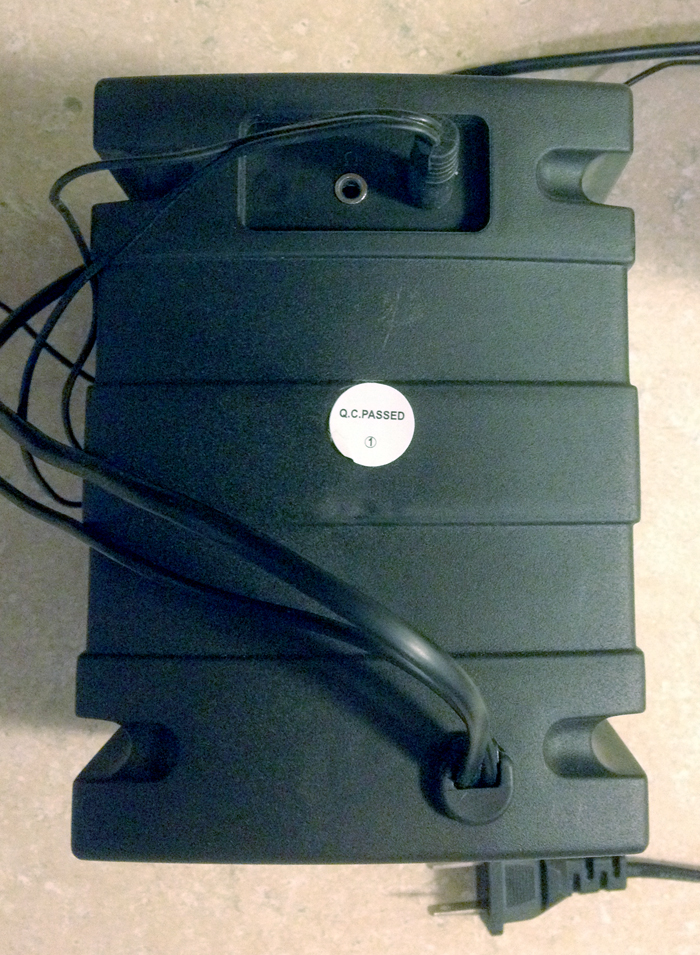 Two interesting things can be seen in the above picture. First, it has a head-phones port on the back. Why would anyone want to use headphones with these, when they could just plug their headphones directly in the device? I didn't try, but I wonder if the headphones will also be made mono? I suppose that's all that this good for – a very awkward headphones extension cable. The other thing to notice above is the Q.C.PASSED sticker. Quality Control passed this device! In reality, it shouldn't have been invented at all.
But back to the calbing. It's cheap. Very cheap. The audio cable is so thin I'm surprised it didn't rip in transit. If I cared about these speakers at all, I would be too afraid to use this hair-gauge cable. Most shocking though, is the power cable. It's takes 120 volts from the mains, and it's half the width of any power cable I've ever seen. I'm not sure this is even legal or fire-code-rated. It's such a shallow gauge cable that I wonder if it could over heat and start fires. I've NEVER seen a power cable so thin: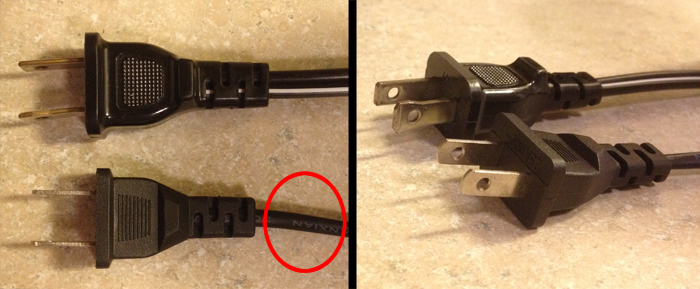 Seen above I compared the power cable with a standard one I had lying around. It's so narrow it doesn't even look like a power cable – it looks like a standard audio cable. Seems like everything is shrunk on this junk. The metal prongs at the connector are also tiny – they're thinner than the normal small-size of most plugs. This cable constantly wants to fall out of the outlet. This device is now officially SCARY to use. I should probably hook up some headsets to it, so my brain can be millimeters from a 120 lethal accident and I can forget these exist.
These are so absurdly bad I find it hard to believe Fry's, or anyone for that matter, would sell them. I've seen them for $30 online, which is criminal. $9.99 was bad enough. The only possible use these would have, would be mailing to your mortal enemy on the off chance they're an audiophile.
February 17, 2015 at 6:58 am | Technology Reviews