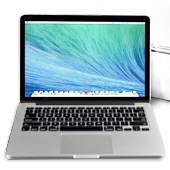 My current job gave me the choice between a Mac or a PC, but strongly encouraged Macs. I didn't care though, I was super excited to try out Macs. I love my iPhone, and I've always been a fan of Apple's design ethics. I just can't afford a decently powerful mac when that same money would build a BEAST of a PC. Though my first real computer was a Mac (A PowerPC Performa with OS6!!), but I haven't really used Mac's since then.
Since I had the option I took it and my work gave me a fully loaded 15″ Mac Book Pro.
The machine really was fully loaded:
Quad Core 3.0GHZ i7 Processor
16 GB ram
256GB SSD
Though this was my first experience with OSX, I will review the Operating System in a separate article. For now, we'll stick to the machine and overall hardware. The screen is amazing. Having a retina display is a treat. When I use my old PC Laptop it feels barbaric now. For for reference, my friend has a high-resolution PC laptop (not sure how his resolution compares to the Retina, but it's definitely better than my laptop). What I noticed though, was my friends PC made everything on screen really small due to the additional resolution. OSX has an option for "best for Retina" which scales the operation system and applications to look "normal size," while incredibly high def. This way, you can still read everything and navigate with ease, while having super crisp fonts, images and UI widgets.
The hardware feels great to touch, and I'm sure that's been said a million times before on the Internet. Though, it's hard to imagine till you have a brand new one sitting in-front of you. The aluminum feels great and the chic-let keyboard types perfectly. The only thing I dislike about the over all hardware is the low amount of USB ports: only two. The sleek design loses some of it's splendor when you have to lug a USB hub around. 3 USB ports would be tolerable for me, though there wouldn't be spare. Four would be better, but I can't ask for too much. Only having two is pretty whack though.
After getting acquainted with the operating system I've convert to a Mac fan. I really want one now… time to save up. I will be really sad when I have to give this back to my work and the end of my contract :/
July 5, 2014 at 6:56 am | Technology Reviews