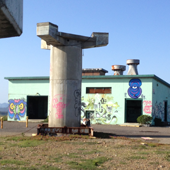 This is a pretty common hiking trail that is getting rather popular these days. Along the way there's multiple bunkers to check out, and the treat on top is a large complex of amazing graffiti from the likes of GATS, Imp, Maska, the Charles crew and more. Definitely recommended for the views and the work, but bring water – we ran out on a hot day. The hike back was terrible.
July 5, 2014 at 5:33 am | Graffiti Yards, Urban Ex
Commentics
Sorry, there is a database problem.
Please check back shortly. Thanks.