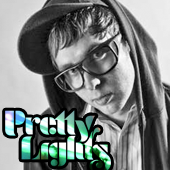 I am currently obsessed with Pretty Lights… I play them almost daily. The good thing is that PL has a wide discography to pick from, that goes through a handful of different styles while remaining soulful and fresh.
Via Wikipedia:
Derek Vincent Smith (born November 25, 1981) is an American electronic music artist who performs under the stage name Pretty Lights. He is also the proprietor of an associated music label, Pretty Lights Music.
Smith wrote and produced hip hop music while attending high school in Fort Collins, Colorado. After graduating from high school, he attended University of Colorado at Boulder, but dropped out during his freshman year to focus on his music instead. In 2007 and 2008, Smith began playing late nights for large acts such as STS9, The Disco Biscuits & Widespread Panic. In the summer of 2009, under the moniker Pretty Lights, Smith played at several major American music festivals, such as Bonnaroo, Rothbury, the Electric Daisy Carnival, Wakarusa, Camp Bisco, and the 10KLF. The following autumn, he went on a multi-city tour of the United States.
Still Rockin'
I Can See it In Your face
If I Gave You My Love
Aimin' At Your head
Yellow Bird
Cold Feeling
Somethings Wrong
B-Rock
December 10, 2013 at 2:23 am | Favorite Musicians