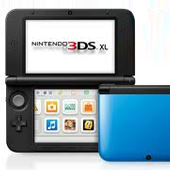 I remember the first time I saw a 3DS; a few years ago I was wandering around Frys, and came across one on demo. I was blown away – how could I have not known this marvelous device existed? I've always been a fan of stereoscopics, and the new idea of glasses-free parallax based displays excited me. Unfortunately at the time I was too broke to invest in gaming. Recently I spotted a 3DS Xl in Target and all the same feelings came back – but this time round I actually had a job, so I picked one up and a handful of games, including:
Super Mario 3D Land
Mario Kart 7
Animal Crossing
Steel Diver
+More including a couple of regular DS games I had never played
I immediately fell in love with the 3DS. I've been out of the Nintendo loop for a while now, but the system has much better graphics than I was expecting. I was very disappointed in the 3d rendering on a regular DS (no texture filters???), but the 3DS is great.
The 3D Effect
I love the 3D effect. For the most part, the games are designed so that the depth goes INTO the screen, like a diorama versus popping-out at you like 3D television / movies. When stuff pops out, it's uncomfortable, but it works well the way most 3DS games do 3d. It's like looking through a window into a 3D room inside your console. I've always been a fan of 3D, and I have no problems playing with it on full-blast. It makes me sad, however, to learn that I am in the minority. From reading online and various Reddit posts, it seems as though about 75% of 3DS players turn the 3D off altogether. Is it really that hard to hold your hands still while playing? I guess it's not for everyone, but it makes me sad that such cool tech is going to waste.
The Games
I wont review every game individually, but rather give an over-all opinion. I realized that, at heart, I'm a Nintendo gamer. I like games that are colorful head-trips. I feel like most games these days (like hyper realistic war simulators) are basically tag-for-adult-mouth-breathers. I just don't see the appeal I saw when I was younger. But the idea of going into a trippy cute world, where you collect a LEAF to become a RACOON so that you can FLY is totally up my alley.
Nintendo games have a certain soul that is lacking in much of the rest of the industry. Nintendo can reinvent the same game a dozen times and still come up with new experiences built from the old and familiar. Unlike certain sports games and war sims, which just rehash the same experience over and over with mildly better graphics each go-round.
Another thing I tend to dislike about the competition is all the dark games. I feel like people want something dark so they can feel "adult" and "edgy." Oh look, a show about meth! How hard! So edgy! Meh. There's enough trouble in the world that all fictional drama seems contrived. I'd much rather escape until a crazy fun world than some dark, contrived story.
The Hardware
I got the 3DS XL. The unit feels really nice in your hands and I have no problem reaching any of the buttons. The only thing that's kind of weird is the thumb-stick. Sometimes I feel my thumb sliding off after running long distance in Animal Crossing. It hasn't really been a game changing issue though.
The screen is nice and large, but it's low resolution. You can easily see the pixels, but you'll forget about them once you get absorbed into the game play.
Feeling like a Kid again
The best way I can describe my time with this machine, is feeling like a child again… in a good way. I've seen a handful of Reddit users make similar assertions. There's something magical about a Nintendo console / game that leaves you wanting to explore more, and play more. Sony and Microsoft can make their testosterone based shooters, sports, and horror games but Nintendo continues to have a charm you just cant find anywhere else. When I picked up a 3DS I found myself eager to finish work so I could go home a play… something I haven't felt in a long time. Too many games these days feel almost like a chore.
Conclusion
If you're in the market for a portable, I highly recommend giving the 3DS a try. It's not for everyone. It doesn't run Android, and isn't easy to hack. It's a closed eco-system, but worth it. Trading soul for customization is a losing bargain.
December 10, 2013 at 12:11 am | Technology Reviews