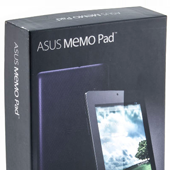 Recently I came across a good deal on an ASUS MeMO pad, so I took it. Now, I wasn't in the market for a tablet as I already had an iPad 1 that fell out of use. At this point  the iPad 1 is a three year old device, and the ASUS MeMO is about 1 year old. So it has 2 years worth of advancements over the first iPad. My reasoning was simple: although the MeMO pad is considered a low-end budget device, surely after two years it must run better than or equal to a first generation iPad.
I was wrong.
I'm not gonna review the screen, or the physical case, or things like that – there's plenty of reviews like that already. Besides, I'm not terribly picky when it comes to things like that, it felt decent to use. But I'm absolutely appalled that the device under-performed an iPad 1.
When iPad came out, it pretty much set the bar for tablets. Of course ASUS MeMO pad is cheaper than the launch price (and in some cases, the aftermarket price) of an iPad 1. But that means it's existence is solely to take money from people who don't want to spend more on a tablet… and give them something barely serviceable in exchange.
The first sign I noticed that something was off, was the default Android picture viewer. I was pinch-zooming some photos I had taken with my iPhone 4s (8 megapixel) and downloaded to the tablet. When I would zoom in, they would remain blurry for several seconds (up to 10). Slowly but surely, 1 tiny square at a time they will fill in with a more high-res version of the file. Zooming in on pictures should NOT be a laggy, time consuming function. It's pretty much a stock, bare bones, necessity. For some reason the MeMO just couldn't zoom in on pictures quickly – at all. That's pretty unacceptable, so I tried some 3rd party picture viewers. I found one that zoomed quickly, but it had ads. I found another that zoomed quickly, but it wasn't smooth and was prone to crashes. It's a bad sign when you have to replace the first party picture viewer with glitchy ad-riddled alternatives. Of course, the iPad 1 had no problem rendering high resolution pictures instantly upon zoom.
Browsing the web wasn't unusable like the picture viewer, but it wasn't great either. Scrolling pages was choppy as well as zooming. I installed and ran cut-the-rope, which had random frame drops and ran choppyish compared to it's smooth iPad counterpart. Now I'm sure there are technical reasons, such as Androids environment being based on a virtual machine, versus native compiled code on iDevices, but that's beside the point. If it runs poorly, the underlying technology is not an excuse.
Despite my disappointment, I wasn't totally bummed out. I got a good deal on it, and at least I had an Android device to tinker with. I can't really recommend anyone pick up a MeMO though.
December 9, 2013 at 10:46 pm | Technology Reviews