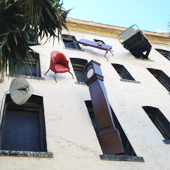 If the furniture is trying to escape this building… I'd hate to see what's going on inside.
The furniture was part of an art installation in 1997, via 1am:
This multi-disciplinary sculptural mural involves seemingly animated furniture; tables, chairs, lamps, grandfather clocks, a refrigerator, and couches, their bodies bent like centipedes, fastened to the walls and window-sills, their insect-like legs seeming to grasp the surfaces. Against society's expectations, these everyday objects flood out of windows like escapees, out onto available ledges, up and down the walls, onto the fire escapes and off the roof. "DEFENESTRATION" was created by Brian Goggin with the help of over 100 volunteers.
Along the bottom of the building, and across the street there was some nice graffiti handiwork.
October 7, 2013 at 9:34 am | Graffiti Yards