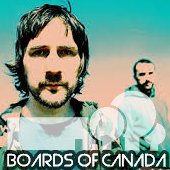 BOC has been around for quite a while, yet their music still sounds fresh. If you've never heard them before, perhaps you'll recognize some of their sounds from Salad Fingers?
Via Wikipedia:
Boards of Canada (commonly abbreviated BoC) are a Scottishelectronic music duo consisting of brothers Michael Sandison (born 1 June 1970) and Marcus Eoin (born Marcus Eoin Sandison; 21 July 1971).[2]

They have released several works on Warp Records with little advertising and few interviews, while also having an elusive and obscure back-catalogue of releases on their self-run Music70 label. They have also recorded at least four tracks under the alias of Hell Interface.
Roygbiv
Beware the Freindly Stranger (Theme in Salad Fingers)
October 10, 2013 at 4:44 am | Favorite Musicians