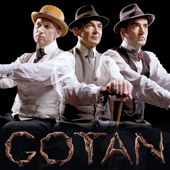 At some point in my adventures though "World Music," and "Chillout Lounge," music I discovered the Gotan Project. They have a great tango atmosphere. Via Wikipedia:
Gotan Project is a musical group based in Paris, consisting of musicians Eduardo Makaroff (Argentine), Philippe Cohen Solal (French) and Christoph H. Müller (Swiss, former member of Touch El Arab).

Gotan Project formed in 1999. Their first release was "Vuelvo Al Sur/El Capitalismo Foráneo" in 2000, followed by the album La Revancha del Tango in 2001. Their music involves tango, but also uses elements such as samples, beats, and breaks.
Mi Confesion

Notas

La Viguela

Paris, Texas

March 9, 2013 at 9:42 am | Favorite Musicians