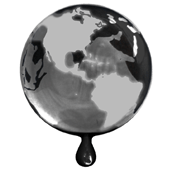 Oils Well That Ends Well
Introduction
The project assigned to the class this time was to create a photoshopped triptych revealing a hidden truth. Something with a social message. Something with more to offer than just aesthetics.
The Concept
After WWII and into the 1950's our economy was booming and suburban sprawl covered the nation. We had discovered Texas oil and the whole world had a seemingly unlimited supply of oil. We were swimming in oil and looking for new ways and technologies to apply it. As years passed and science improved, we be came very adept at making oil based products, from plastics to pesticides, let alone raw automobile fuel. However, we've now reached peak oil, and the world has a global economy closer to Globalization than ever before in history. But our entire economy is based around oil and it's running thin. Our bubble is about to burst. Because we have no viable solutions for the replacement of oil, the future will be drastically different. No more Walmart's importing cheap-labored goods from across the planet. No trucking routs or rush hour traffic. No more big business. No groceries stores with packaged products. Our most notable change will be the localization of agriculture and reclaiming suburban land. These pictures represent our past, present and future relationship with oil.
The Project
November 22, 2012 at 12:54 am | Art