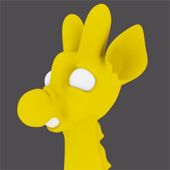 Someday I would like to 3D model all of my favorite Graffiti characters that I've discovered around the Bay Area. Of course, I had to start with my favorite, and the one that brought me closer to the Graffiti game – Girafa.
Below is a quick animation of the 3D model I created. I actually wanted to 3D print it, but the size I desired would have put a $100 price tag on a hunk of plastic. I decided to pass, but serendipitously about 6 months later Girafa himself posted some sketches on Instagram of a 3D model he would have commissioned for a plastic key-chain! The 3D model he ended up with looked strangely similar to mine.
Here is my render – 6 months before Girafa suggested the idea of modeling the giraffe:
Here is the doodle he posted with it's original caption:
Here is the model the artist he commissioned came up with:
Pretty crazy how we both envisioned the same thing. This actually wasn't the first time I attempted to 3D model Girafa. Below you can see an earlier attempt, where I was going for a more realistic style. What if Girafa was really a living creature? Scary.
February 25, 2010 at 12:16 am | 3D Modeling, Video