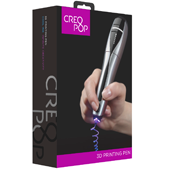 I recently came up on a CreoPop 3D Pen. I've since had a chance to play with it, and here's my critical review.
I have to mention that, I am a huge fan of 3D printers – however, 3D Printer Pens are not 3D printers – despite their misleading name. This review will be both critical of 3D Pens as well as the CreoPop.
Let's start with the concept of 3D Printer Pens. When the first 3D Pen was announced, the 3Doodler, more than a handful of people linked me to it – assuming I would drool over this new paradigm in 3D printing. But 3D Pens like the 3Doodler ruin everything that is great about 3D printers. By far the most interesting thing about 3D printers is the ability to make a perfect model in Software (such as Blender), and then print multiple copies of it.
3D Pens don't take a model and spit out a sweet plastic version of it. 3D pens are more like pencils – and nobody would call a pencil a "printer." And if your professor asks for a printed paper, a pencil written document wouldn't count as "printing" an essay.
3D Pens don't rely on modeling, or even files at all. Instead, you "draw" in 3D with plastic. This defeats the purpose of 3D printing – instead of having a high quality model that you can print multiple of, you end up with a single 3d object that looks like the plastic equivalent of a crayon doodle.
So why the popularity of 3D Pens? I think the answer is: because people are afraid of 3D modeling. 3D modeling software is SCARY!!111 So, instead of having to practice a skill and learn how to make 3D models in software, just get a 3D Pen and doodle whatever you want! I really feel this is why there was so much excitement for 3D pens – because it would enable non-3D modelers the ability to make things, while still feeling like a part of the 3D printer crowd.
Well my answer to them is: learn to 3D model. The most awesome thing about a real 3D printer is the ability to make a perfect model on the computer, and then have unlimited perfect copies printed out. Printing professional grade prototypes is awesome. Making 3D chicken scratch, not so much.
With that said, let me review this "3D Printing Pen" which is not actually a 3D printer.
When I opened the box I found out that, the people using the Pen are so good, they don't even need to turn it on!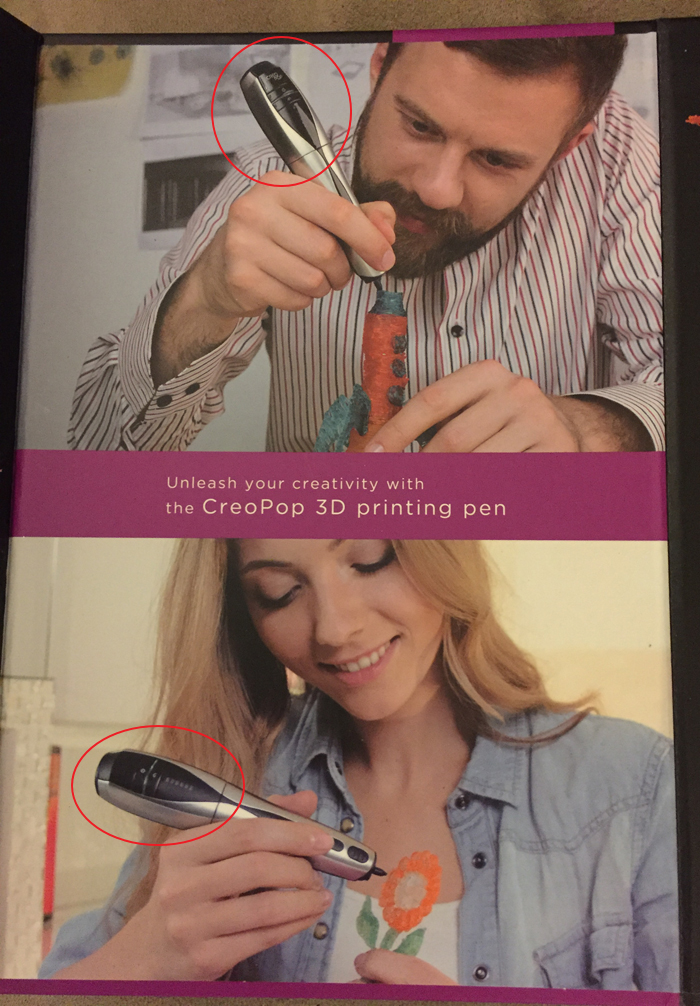 That first guy is thinking "Why am I modeling for this photoshoot? Gotta make rent."
Now I should mention that, not only is this a 3D Printing Pen, but it's also unlike others on the market! Where as others use the open standard of PLA / ABS filament to print with, this has a proprietary more expensive solution. Most 3D Printer Pens are essentially the "Hot End" of a 3D Printer, in Pen Form-Factor. That means they're glorified glue guns that shoot out liquid hot plastic. Of course, the cool thing is that it's the same plastic a normal 3D printer would use, and it actually comes out pretty sturdy.
The CreoPop decided to solve some problems that nobody needed solved. It's wireless, and it doesn't melt plastic, so it's "safe." CreoPops big gimmick is "Cool Ink," meaning, it can print solid objects without melting plastic. Instead, it squirts out a photo-polymer that reacts to UV light. It has UV LEDs on the tip of the PEN which cure the photo-reactive plastic from liquid state to solid. That actually sounds kinda cool – but has a few down sides:
Proprietary Ink: When it comes to 3D Printers, nothing makes me rage more than a company trying to sell proprietary ink. All the originally 3D printers used off the shelf, industrial PLA/ABS plastic spools. If we've learned anything from 2D Printer, it's that they sell the Printer machine for cheap and then make a fortune on ridiculously expensive proprietary ink carts. I DON'T want the same to happen in the 3D printing industry, so the idea of a 3D printing pen that sells marked up carts is off-putting to say the least.
Wirelessness: People these days seem to be obsessed with making things wireless, of which I'm not a fan. When I buy power tools, such as drills or jigsaws, I always go for corded. I like the comfort of being able to plug a device in and have unlimited power. There's nothing more disappointing than trying to drill something and finding your drill winds down to a crawl. Charging batteries takes a long time, and can be a show stopped. Of course you could have back-up batteries charging, but batteries are expensive and go bad after while. So then you're locked into a position of constantly buying, charging, and replacing dead batteries. All of which is completely unnecessary with a corded drill. So the CreoPop is wireless. Who cares? 3D Pens are already a technology that doesn't need to exist, and making it wireless for wireless sake is pointless.
Plastic Quality: Now I'm not talking about print quality – that's a subject I'll discuss below. But rather, the plastic has to be specially formulated to cure with UV light. The result, is a waxing feeling, very cheap feeling plastic. I like printing with PLA/ABS because those are standard plastics used for real industrial products. They feel sturdy – not waxy. This device relies on a custom plastic, which is unproven. Granted this device is more for art than engineering.
Anwyay, so I tried making some things with it and nothing went to successfully so I won't show it here. I eventually came up with a plan: to make a 4cm equilateral pyramid. I got out some graph/dot paper and drew an equilateral triangle: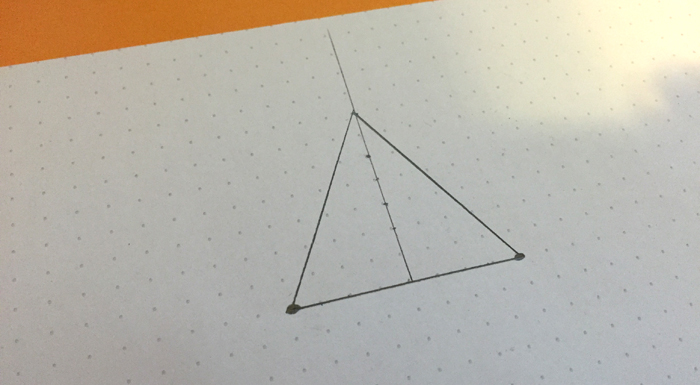 I then traced and filled the triangle with plastic from the CreoPop: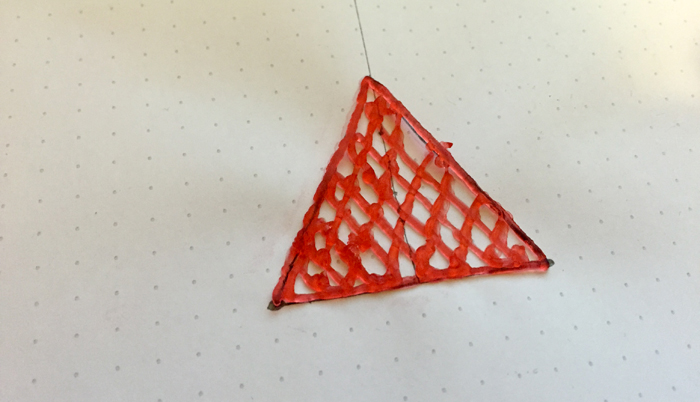 I realized early on that this device has another major downside: the UV light is unbearable. While the device is "in action," it's blasting the surface with high-intensity UV light which supposedly cures the plastic. This has two problems:
First, it's obnoxious. It really hurts the eyes. You can see every blood-cell flowing over your rods and cones while staring at this UV light. It's distracting and uncomfortable. Luckily the effect is diminished by wearing sunglasses and I just so happened to have some tacky Four Loko glasses on me: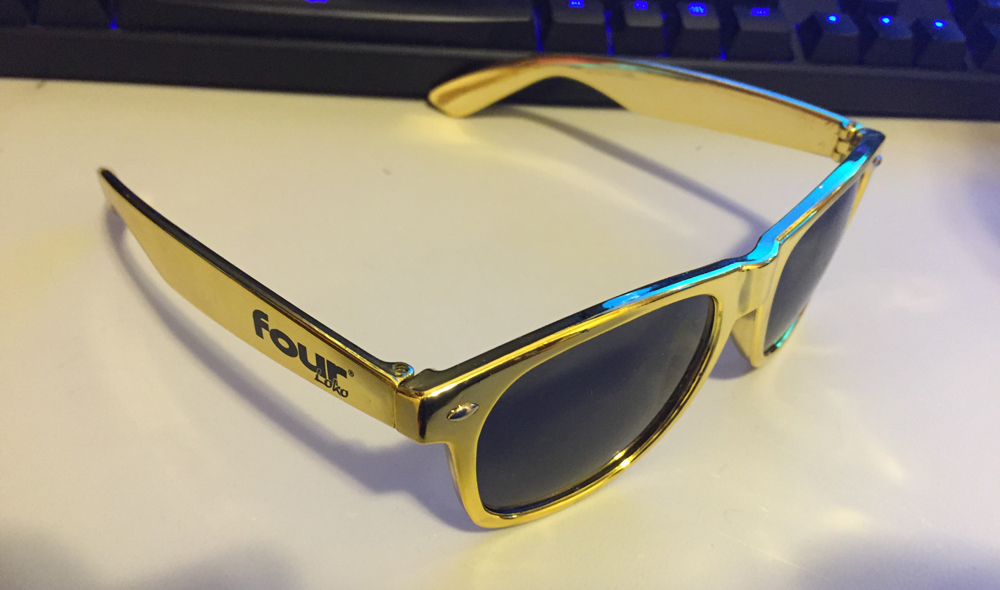 After I made on side successfully, I made four more copies of the same triangle. After the second one, the paper started tearing and sticking to the triangle, so I had to draw another one to continue. After I had all four, I used the pen to "weld" the edges together. In the end, I ended up with the following: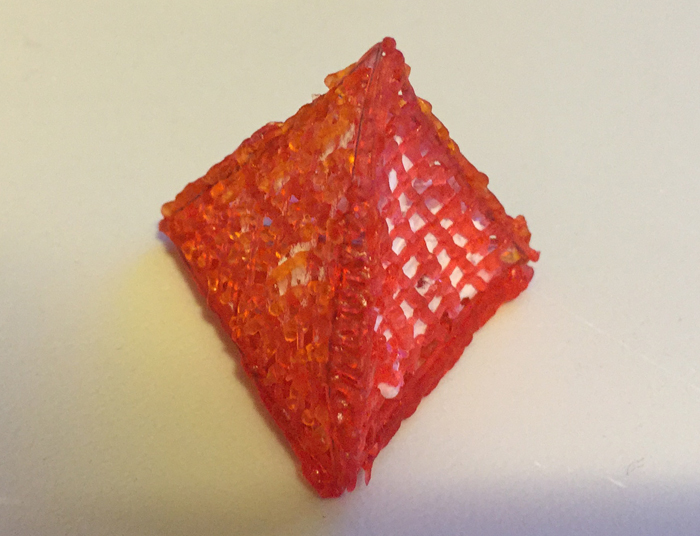 In the end I had my 4cm equilateral pyramid. I was able to make this by drawing out the sides in 2D, then joining them in 3D. I suppose more advanced models could be created by drawing and joining various cross-sections and contours. But just to illustrate my point that 3D Pens are NOT 3D Printers, I also printed a 4cm equilateral pyramid on my Ultimaker Original. Compare the results side by side: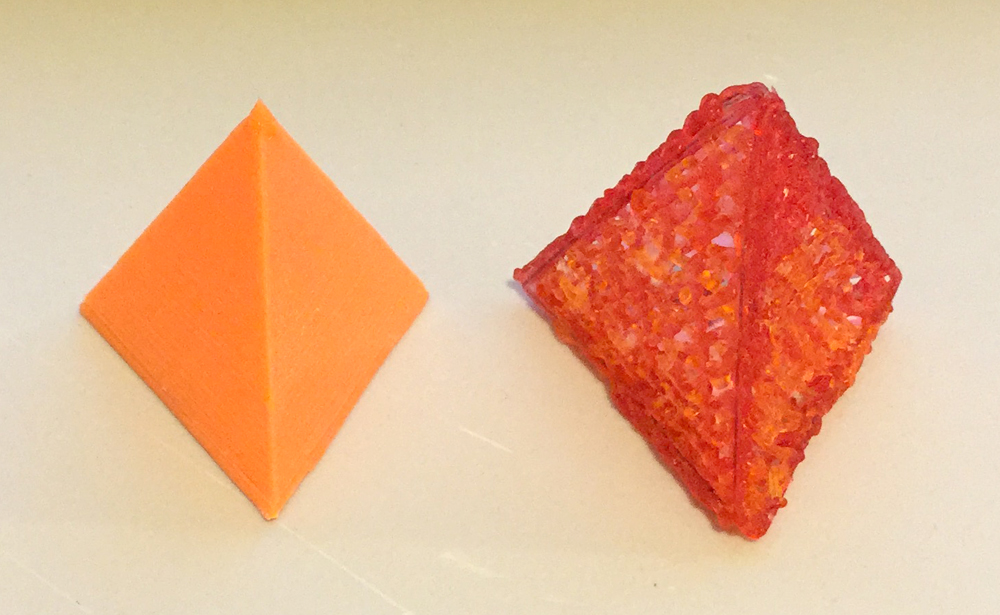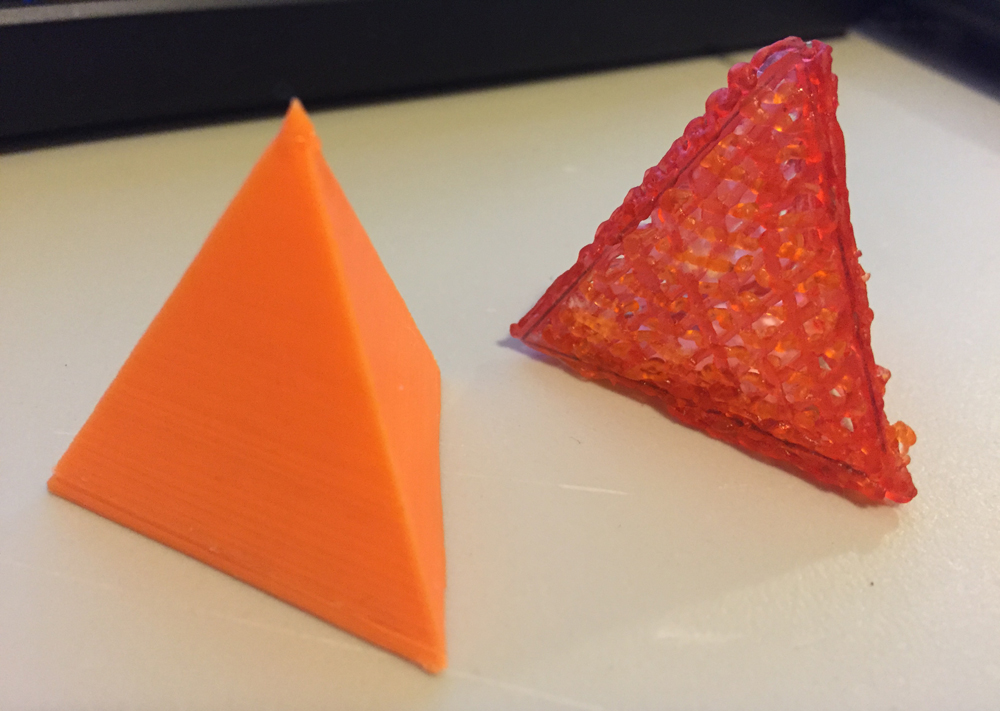 As you can see, the 3D printer made a pyramid that's almost perfect. And it only took 45 minutes. Sure I made the CreoPop pyramid in only 30 minutes, but the quality is not excusable. Not only did the 3D Printer do a better job, but I tell it to print me 20 more if I felt like it. In the end, I'd have 20 identical pyramids. If I were to do the same with a 3D pen, I'd have to manually sit and draw each one – and each one would be slightly different.
Overall, I can't really recommend the CreoPop – or any 3D Pen – for that matter to anyone. If you want to get into 3D printing, learning to 3D model is the only way. It's not that hard. I also want to take a moment to thank my friend who hooked me up with the CreoPop. This was my first hands-on with a 3D Pen, and while I'm not a huge fan of 3D pens in general, actually getting to try one was fun.
February 22, 2016 at 5:17 am | Technology Reviews