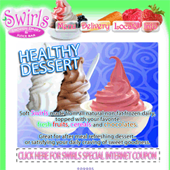 Please excuse the obnoxious green background. Although I was young both in my design ability and my web-dev ability when I made this site, I did not chose the background color! But I'll get to that in a moment.
This website is actually for a place I used to work – Swirls Frozen Yogurt in downtown San Jose. It was a really fun laid back job. When the management changed, I offered to make a new site for the store and my boss agreed to let me give it a make over. In terms of programming, the site is pretty bad. In terms of design I think it was very good for it's time… except for that horrible green background. I had a nice desaturaed violet purple. It looked fantastic. Especially considering those were the colors inside the store…
After I finished the site, I presented it to my boss. He called his family from the store and had them looked at it. His daughter didn't like the purple background, so he asked her to pick a new color. Later that day I was emailed the most atrocious green ever to be seen by humanity.
Other than the background, the other issue I have with this site is the menus pages / coupons pages. They're all just static images. The menus were actually just images of the graphics used for the menus in the store. Really they ought to be proper text and CSS, but oh well. This was one of my earliest sites, so I'm not too disappointed in myself.
June 1, 2014 at 3:00 pm | Websites