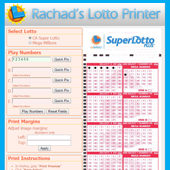 Click here to check out the project!
A couple years ago I had a housemate named Rachad. He was a big fan of the California State Lotto, and he asked me to help him buy lotto tickets. I threw together this jQuery app which lets you pick numbers manually or fill out quick-picks. Then it carefully aligns black-circles on the page over a scan of a lottery ticket.
But that's not all. I made use of the CSS background property, among other CSS tricks to make sure that nothing except the black dots would print! This way, Rachad could load a stack of blank lottery ticket forms into his home printer, fire up the app, and have his printer fill out the tickets for him!
Including on the page are instructions for FireFox page-setup to make sure the alignment works. It's been a while since I bought a lottery ticket, so I have no idea if they updated and the form and if this still works or not. But at the time it did, and it was a handy way to fill out tickets before work!
Click here to check out the project!
May 15, 2014 at 2:48 am | Code Projects