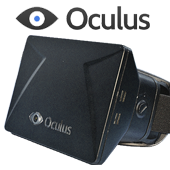 Back Story
If you read my Nintendo 3DS XL article, you'd know I'm a fan of 3D things. In fact, when I got my first paycheck from my old job at Cisco, I immediately splurged on a bunch of hardware parts to build my own virtual reality head-mounted display. For a few reasons I wont enumerate here, my HMD project ended up going no where.
That's why I was pretty excited to learn about the Oculus rift. I have to admit – I was pretty skeptical at first. I remember seeing the kick-starter for Oculus before it was funded. I thought it sounded too good to be true, and too far in the future. Was I really gonna fork of $300 for a hyped-up virtual reality device?
A year passed, and eventually my mind moved onto other things, like obsessing over 3D printers and getting a Nintendo 3DS. Just recently the Oculus reentered my consciousness, and I noticed they're now taking orders on their website. Reviews were mixed, but overall positive. I decided to take the plunge, and dropped the $300 required to get one.
Shipping
Unexpectedly, my shipping wait was short. I think I just lucked out. In September, they said they'd be shipping in October. In October they said they'd be shipping in November. I placed my order toward the end of November, and they said they'd be shipping in December. I have no idea if my order was in the same batch I saw back in September, or if they just ship once a month. I would have died if I had placed the order in September and had to wait through 3 push backs. I tried asking them, but didn't get a clear answer. At any rate, it only took 2 weeks to get to my door, and I actually picked up the package the day BEFORE they sent me a tracking email!
Now onto the review…
Screen Door Effect (SDE)
The rift uses one 1250 x 800 display panel, with two lenses focused on it. It's a pretty simple device – you just plug HDMI into your computer, and USB for the head-tracking sensor. The device itself doesn't really do any magic, its literally just an HDMI monitor with two lenses. The magic comes from the software. Games designed for the rift render two images on each side of the screen. One for the left eye and one for the right, which creates the stereoscopic effect.  Interestingly, they use pixel shaders to warp the images to account for the lens distortion. Although the lenses distort the screen, the screen draws an image that's warped in such a way that it looks flat inside the HMD.
Because the screen is so close to the lenses, you can see the pixels very close up. This creates what's known as the screen-door effect (SDE), because it looks like you're looking at a monitor through a screen door. I had read about the SDE before purchasing the rift, but most people assured that it wouldn't be too noticeable once you start getting engrossed in your surroundings. I have to agree, but the SDE was much more startling than I had expected. I can't wait for the hi-def version…
Immersion
The head tracking works well, and the immersion is incredible. One demo in-particular, called Blocked-in, is stunning. I really felt like I could reach out and grab everything in the scene. Another one of my favorite demos is VR Cinema. You can configure it to load any video file that you like. When you start the demo, you are inside a virtual movie theater. You can walk around, and choose any seat, or you can walk all the way up the screen and look up nearly 90 degrees vertical. It's incredibly impressive. It really feels like you're in a theater, and being able to watch real films on it is awesome.
The immersion works well. I was playing Half Life 2 with it. When you get off the train at the beginning, you got through several check points with Combine guards waiting to harass you. They feel like they're your height shoulder-to-shoulder, and it makes it much scarier when they try to harm you.
Nausea
Unfortunately, the rift isn't perfect. Many people complain about getting nausea after playing. Some people it only takes minutes, while it takes hours for others. The main problem isn't with the head tracking, but rather with the movement. Using the mouse (or the right-stick on an xBox controller) feels really unnatural. Also, things like strafing (walking side-to-side, as common in FPS games) which we don't do in real life often, feel unnatural and nausea inducing.
The idea is that, the rift is good enough to fool our brain into thinking we're in another world, but not good enough to fool it when movement is involved. Especially running. The rift doesn't seem to cause nausea if you sit and look around yourself. But once you mix in motion, the mental disconnect becomes apparent. Some people complained of headaches as well as nausea.
The good(ish) news, is that a lot of people say you can get used to it. Once you become accustomed to the unit, your brain no longer expects real-life movement. It learns that you're in the rift, and doesn't get confused when things move in a virtual-sort-of-way. Some people compare it to getting your sea-legs, for those who work on boats. Getting your VR-legs might be a prerequisite until developers figure out how to make more natural movement in games.
Conclusion
So far I've had a lot of fun with the device. It's screen door effect was a lot worse than I was expecting, but it's completely made up by the immersion, which was a lot better than I was expecting. Since it's a "developers kit," it comes with 90 days of the Unity engine for free. I wasn't initially planning on making anything for it, but now I just might. If you're impatient like me, you probably wont be disappointed getting one. However, if you're having doubts, you might as well wait for the HD consumer version. It will probably have most of the nausea kinks worked out by then.
December 10, 2013 at 12:54 am | Technology Reviews