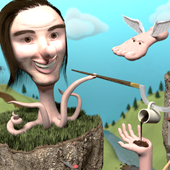 On the popular social media site Reddit, the /r/blender subreddit has a themed contest every month. This is the first month I entered, as I liked it's theme: surrealism. About 7 or 8 years ago I originally created this doodle in MS paint:
(Click for full size)
So, I thought this trippy scene was worthy of a 3D Blender make-over. This is my entry for the March 2014 Reddit contest:
(Click for full size)
As you might have guessed the title "Sir Rheele" is a phonetic play on "surreal." I'd love to say that the picture has some deeper meaning, like the position big oil plays in our society. Sadly though, it is pretty meaningless. Though I don't remember much about my mindset when I created the original image, I'm fairly certain I was just doodling at random.
During this project I learned a lot about Blender's hair system and particle systems in general. I had to create hair in a few different places, in different styles:
Sir Rheele's full head of hair
Sir Rheele's eye brows
Sir Rheele's eye lashes
Sir Rheele's beard
Flying Foot's curly hairs
Flying Foot's eye lashes (basically the same as Sir Rheele's)
Flying Foot's wings
Nameless Victims head of hair
And of course, the Grass
I'm also pretty exciting about how Sir Rheel's face came out, as well as the impaled victim. I feel very confident at modeling random objects and gadgets, but have very little experience with character rendering. I definitely feel a lot stronger at the latter after this project.
Make sure to check out the full size to truly appreciate this render!
March 27, 2011 at 8:34 am | 3D Modeling